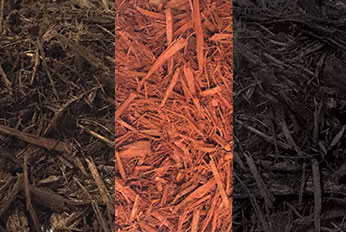 Color Enhanced Mulch
Our color enhanced mulch is made from logs. Absolutely no construction wood or reclaimed pallets are used in this mulch. Colored mulch is not as nutritionally beneficial as our other mulches, but it has a fibrous, shredded texture and long-lasting vibrant color, making it a popular choice for enhancing flowerbeds, gardens, and areas around trees and shrubs . It is safe for pets and plants.
Covers 160 sq. ft. at 2–3″ thick
One cubic yard of mulch is...
About 4.5 wheelbarrows


13.5 bags (2 cubic feet per bag)


About the size of a parking lot space (spread at 2" deep)
For each Zone, enter your Length and Width measurements rounded to whole feet. Recommended annual Mulch Depth is 2–3". We've set the default depth to 2.5", but you can click on the popup to change it.
Our calculator will tell you how many Total Cubic Yards of mulch you need. We round the number up to get the quantity of whole Cubic Yards to Purchase, as we only sell in whole yards.